Negrense Way
Talisaynon Tali-ambong Art Workshop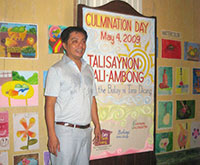 Balay ni Tana Dicang Director, Adjie
Lizares.
The first Talisayson Tali-ambong (Hiligaynon word for art) Summer Art Workshop started April 13, 2009 and had its culmination last May 4, 2009. The workshop was a success.
Talisaynon Tali-ambong is a joint project of the Balay ni Tana Dicang, Babayi Artists Group and Hugpong Salingsing Art Group.
Balay ni Tana Dicang was the venue of the activity. It is the ancestral house of the Lizares family that had been standing strong for more than a century now (126 years old balay-na-bato) and now a lifestyle museum.
The Babayi Artists Group is composed of women who cater to visual arts and performing arts. The Hugpong Salingsing Artgroup is a group from La Consolacion College-Bacolod Fine Arts students that envisions "Unity in Diversity" and focuses its advocacy on the youth.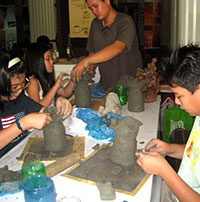 Terra cotta making.
The groups want to hold this workshop every summer because this is an opportunity for students to give focus on other interests which they don't have time for when there's school.
The workshop will help them develop their skills and talents in visual arts.