PURR
Hubo's Inner Beauty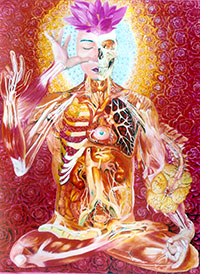 Atlas of Prana Yama.
Beauty is not skin deep. Beauty also stems from within. And when the inner part of our being is beautiful, it also shows in the outside.
This is the idea behind the exhibit "Inner Beauty" that Guijo Dueñas, now called Hubo, is staging in Manila starting May 21. This is a one-month exhibit from Iloilo City's most dynamic and veteran artist, who was the Regional winner for Visayas in the Philippine Arts Awards 2008.
The exhibit will be held at the Big and Small Art Gallery, SM Megamall Building A, Mandaluyong, Metro Manila.
His series of works will feature zen and yoga. Measuring three by four feet, these oil on canvas works show Hubo's spiritual surrealist's approach to art. Expect to see the body's internals combined with some other elements here.
"Comfortable Numb" shows that people perform spiritual acts to deny social reality. Hubo cites the examples of giving to charity. "Tantrika" uses the phallic symbol of the air pump to show sensuality and sexuality. "Atlas of Prana Yama" shows Hubo doing diaphragmatic breathing, the proper way of inhaling and exhaling air as well as his process of visualization. His concept is guided by this principle, "It is only with the heart that one can see rightly what is essentially invisible to the eye." Then, "Nasa Loob and Dwende" shows that through 'asanas' (postures) one can control unnecessary wild thoughts or fantasies. The fairies on the artwork symbolizes the fantasies. These are just some of the many artworks that will be viewed in "Inner Beauty."
Comfortably Numb.
Hubo is very familiar with his subjects. First of all, the human form in his artworks are his. Also, he has been practicing yoga for 22 years. In his earlier years as an artist, he focused on culture. "But then I realized that it's not my life. Since I am doing yoga, I focused on this instead. My works now touch on meditation, breathing, control and the functions of the body."
Hubo decided to hold his exhibit in Manila because art appreciation here is at its height. He also aims to be known more and he believes that Manila is ready for him.
On October and November, Hubo will also take part in a group exhibit in Manila. He will be joined by another veteran and award-winning Ilonggo artist, Cezar Arro.
Hubo can be reached through 0917-739-9899.