Fun Match of Akupi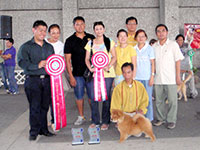 The winner in Best Puppy in Show is the
chao chao Lucy, owned by Cherie Gold
and Jong Grabato.
Asian Kennel Union goes to Iloilo
The Asian Kennel Union of the Philippines, Inc. (AKUPI), a new dog registering organization, has arrived in Iloilo City and has affiliated itself with the Western Visayas Kennel Club, Inc. It started to hold dog shows last April and one of them was the fun match held at PNB last April 19, 2009.
Dogs with or without pedigrees competed in different categories – breed and group (working group, hound group, toy group, etc.), puppies and the winners from each category competed for the Best in Show title.
There were two shows that day. The Best in Show winner for the first competition was Phil HOF Toy Farm's Backstreet Boy, a miniature pinscher owned by Capt. Henry, Teresa and Harold Demaisip. The Best in Show winner for the second competition was Phil Ch Good's Chenex Shinjo, a boxer owned by the Demaisips, as well. It was a day for the Demaisips because Phil Ch Mountain Pine Butter Cream, their beagle, won 3rd Best in Show in the second competition.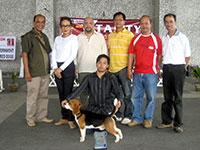 3rd Best in Show, Phil Ch Mountain Pine
Butter Cream.
The Best in Puppy in Show recognition was given to Lucy, a Chao chao of Jong and Gold Grabato.
Eric Reyes, a handler, received the Best Handler recognition.
The show was quite educational because every time a certain dog goes to the ring, the host explains its breed standards and corrected some misconceptions about it. That way, the spectators appreciated the dogs better.
It was the first show of the WVKCI, headed by Bernard Reyes. It was sponsored by Vitality Lamb and Beef.