CARLO'S Bakeshop… All the breads you love, all the time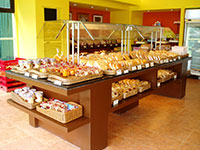 A wide array of bread awaits at Carlo's.
Carlo's Bakeshop (Bakery – Café') opened its doors anew so now is the perfect time for the family to enjoy the delicious taste distinct at CARLO's Bakeshop's fresh breads and health breads.
Known for its wide array of premium quality products since 1987, Carlo's Bakeshop (Bakery – Café') opened a bigger and better store in time, the new place to go in Iloilo City.
Find here an assortment of the freshest baked goods such as load breads, croissants, sourdough breads, special ensaimadas, mongo ensaimadas and jelly rolls.
Carlo's Bakeshop is also the place to be for specialty cakes and rolls, pasalubongs, celebration cakes, cookies and cupcakes.
The city's full-service, quality baker since 1987, main branch is along Benigno Aquino Avenue in Dungon A. Jaro, Iloilo City.
Carlo's Bakeshop (Bakery – Café') unveiled its new look reflecting a modern and welcoming ambiance. With a fresh touch and new design of orange and yellow, Carlo's Bakeshop has wider room and bigger display of its quality products.
What's more, customers who prefer to take their time can sit back and relax and enjoy a cup of coffee to go with the serving of their favorite cake or pastry at the Carlo's café.
So this offer from Carlo's Bakeshop – treat your loved ones to its delicious line of baked goodies and mouthwatering delights. Carlo's Bakeshop pride itself in offering a variety of specialty items during holidays all-year round.
Other Carlo's Bakeshop branches are at J.M. Basa Street and Aldeguer Street, Iloilo City. Find Carlo's Bakeshop products also at leading supermarkets and grocery stores in Iloilo.
Carlo's Bakeshop. Distinct Ilonggo goodness in every quality product. Come and discover the Carlo's experience. More than just bread. More than just service. It is Iloilo experience seemingly in a box. So come for the food and the experience.