PURR
Two intimate gatherings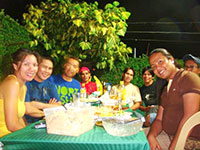 Ronald Lulu (2nd from left) with the gang
from GMA.
At Ronald's
Pharmaceutical executive Ronald Lulu hosted an intimate gathering for his close friends one weeknight at his Balantang residence.
We were treated to cocktails and lots of pica-pica. Trust Ronald to come up with a super gathering. The pica-pica was a delight --- slices of apples, cucumber and cheese, squid balls, pork barbecue and mouth-watering cheese burger. The feast was prepared by no less than his friends, culinary experts Marlon Villaflor and Allen Jastia.
Good food, strong cocktails, funny conversations, good friends --- the perfect combination for an intimate gathering.
Lunch for Gerald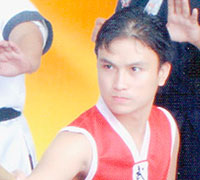 Gerald Tinagan.
Gerald Tinagan, heir to the Tinagan School of Martial Arts, Inc., turned a year older recently. Even in absentia (busy cruising the world), Gerald's natal day was celebrated by her parents Arnold and Girlie by holding a luncheon in his honor at the Hong Kong Kitchen.
It's always good to be around the Tinagan couple. It was also so good to see Jonel Peraña, who happens to be the coach of the Philippine team for karatedo and a good mentor for the said martial arts discipline. Cherrylove Delotavo, marketing officer for ITSMAI, whose sunny personality lights up any room was my buddy that day.
After lunch, we proceeded to the 2nd floor where Sir Jonel demonstrated to us the secret of making martial artists strong.
ITSMAI is celebrating its 27th anniversary starting May 17.