The Amalfi Experience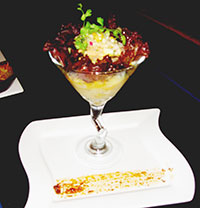 Tuna and New Zealand Mussels Ceviche.
All-good Italian food and wine right here in Iloilo City
We can now speak with more conviction of Iloilo City as "highly-urbanized," thanks to the new investments in the restaurant industry here.
This writer had a recent great food experience. And I call it "The Amalfi Experience." The all-good Italian food and wine another destination right here in Iloilo City.
Amalfi is at The Avenue.
For first-timers like me, it is imperative to know that Italian Amalfi dining starts with toasted dinner roll and soft garlic breadsticks. And it is served with this small dish of olive oil, balsamic vinegar and parmesan cheese. What to do thereafter? Dip, dip and dip. And yeah. Small calculated bites too to awaken that sleeping 'palate-sense' for the main food – entrée.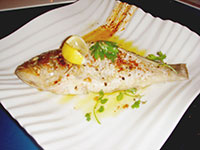 Bronzino con Pomodoro Salsa.
Had as starters Tuna and New Zealand Mussels Ceviche with bits of orange slices and my favorite cilantro. A garnish – the cilantro – but I believe anything served is edible thus gone in seconds. Loved it.
Had Cioppino (pronounced Tsu-pee-no), a seafood stew that had the freshest in prawns, shrimp, mussels and tomato-sauced based. Cioppino comes with the works – sauce, pasta and garlic focaccia bread and aioli dip.
Then came the fish dishes that I want to sum up – all cooked to perfection. Especially the Bronzino con Pomodoro Salsa, never had anything like it before. Magnifico.
Butter Poached Lapu Lapu, Scampi al Amatriciana – a personal favorite. Just the right dash of chili and perfect combination of spices and herbs.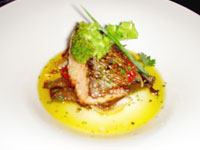 Salmon alla Griglia.
Amalfi has a wide range of Italian favorites to choose from. While at it, match your meal with that perfect wine that will enhance or sum up your dining experience.
And lest I forget, Amalfi has signature sauces. And yeah, Amalfi dishes are more than enough for one, even for the very hungry in you.
And this note too – come for the food and enjoy the service. Service staff is guaranteed to be efficient and warm. And the place is spotless. Italian-way or not, I surmise it was just altogether the Johnny Que-way. The Que family is behind "The Avenue."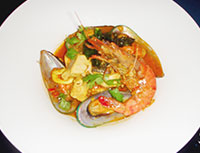 Cioppino.
The restaurant has that "a-whole-new-world" ambiance. Like virtual transfer to yes, Italy. Amalfi is conservatively-lit with glass panels as walls thus giving you a look of the diners outside, a preferred spot for smokers and those who want to dine out 'outdoors.' The minimalist look does make it more comfortable. Black dominates the color scheme and some red on the table napkins to break that.
Amalfi, "Tu sei una stella" – Amalfi, You are a star."