TWILIGHTS
My Metro M Travel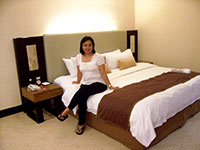 This time, it's the comfortable bedroom
of Traders Hotel Manila that would not let
me out of the room.
I took a break flying to Manila with friends as they brought me around Metro Manila and my brother brought me to a drive to Subic along the NLEX expressway.
But more of our time we spent in Metro Manila and my stay at Traders Hotel Manila was the best ever for the past ten years. The hotel room was so big and the bed was ooooooh so comfortable I never wanted to leave my room I shared with a lady friend and with my other friends in another room. The food was sumptuously tasty and great, too. More so, the desserts.
A drive around Greenbelt Park, The Fort and Makati gave us the idea of having early dinner at the Kamay Kainan at the Market-Market shopping mall. It was great food with more than twenty courses to choose from for over two hundred pesos only. Hmmmm. NO diet this time for me.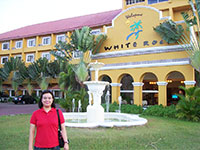 Posing at the White Rock Beach Resort
in Zambales.
Subic was another great destination and a visit to some beach resorts in Zambales area was another fun. White beaches and great salmon steak dinner was there on hand. Sorry, readers, but you'd see me in almost all the pictures here. It's my travel, that's why.