Now and then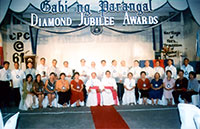 The awardees.
In the program cum invitation, it says "Gabi ng Parangal: Diamond Jubilee Awards." Indeed, it was an evening of looking back to the past 61 years of Colegio de la Purisima Concepcion's glorious existence and, as CPC looks back to all those years, she honors the distinguished men and women in their own fields of endeavors, who have passed through her portals either as administrators, faculty members, or alumni, Purisimians all.
The Gabi ng Parangal, a night of all nights, in a manner of speaking, for the Archdiocesan College, could have been held somewhere else but for nostalgic reason and for everyone also to know that their Alma Mater is celebrating her 61st Foundation Anniversary with its elegant facade just recently inaugurated and blessed, it was in the CPC Quadrangle of the Main Campus that such great event was held in that one of that supposed to be first summer evenings of Feb. 20, 2009.
Seemed every awardee, was anticipating excitedly the awards night, that all of them responded to the invitation either coming personally or would be sending a representative to honor the occasion and award itself. Yes, anticipating excitedly should be the apt description especially for the two ladies, more senior awardees, who came as early as six in the evening, perhaps just to make sure not miss nor to be late for this important occasion. By six thirty, the appointed time, almost all the awardees were already seated at the places reserved for them.
Soon the program started, with the young CPC priest, Fr. Jose Arturo Emilio Arbatin, formal and articulate, as master of ceremonies. It was the College Rector, Rt. Rev. Msgr. Vicente Hilata, PA, VG, who welcomed everybody with such eloquence in his opening remarks. "Purisima: Past and Present" was the title of power point presentation bringing back the old photographs on screen, some in black and white, for everybody to reminisce those "good old days". Eventually, these sceneries of the past brought everyone to the present "Purisima Beloved," flashing pictures of the main campus, with its new facade and newly painted parts of the building. For the Arnaldo Boulevard campus, the new additional, quite long awaited, is the CPC Events Center, F and J Castro Gym, named after one of the outstanding benefactors and alumni of the college.
Then, the awarding ceremonies itself. The first awardee was the present Archbishop of Capiz and Chairman, Board of Trustees, the Most Rev. Onesimo Gordoncillo, D.D., and as the text of the award party reads: "in recognition of his dedicated and invaluable service as Chairman of the Board of Trustees." The award was presented by the College Rector, assisted by this writer, Vice Rector and Chairman, Committee on Awards.
There were other nine Ecclesiastical Awardees, some posthumous, in recognition also of their dedication and invaluable service as "Administrative Official which had greatly contributed to the growth and development of the College." The awardees were Most Rev. Antonio Frondosa, DD (Posthumous), Rt. Rev. Msgr. Vicente Gonzales, DD (Posthomous), Most Rev. Dinualdo Gutierrez, DD, Most Rev. Vicente Navarra, DD, Rt. Rev. Msgr. Sinforiano Fuerte, HP (Posthumous), Most Rev. Jose Advincula, DD, Very Rev. Msgr. Salvador Mabasa, PC (Posthumous), Rt. Rev. Msgr. Conrado Mesina, DP, VG (Posthumous), Rt. Rev. Msgr. Nepthali Irisari, HP (Posthumous), and Very Rev. Msgr. Bonifacio Baldonado, PC. The awards were presented by no less than Archbishop Gordoncillo himself.
The Outstanding Purisimian Awards were given to the former faculty members and alumni who distinguished themselves in their various fields of expertise. They were: Foreign Service – Ambassador Francisco Alba, Judiciary – Justice Josue Bellosillo, Justice Sergio Pestano (Posthumous), Justice Manuel Barrios and Judge Carlito Fantilanan (Posthumous), Public Service – Congressman Fredinel Castro and Atty. Rodriguez Dadivas, Government Service – Director Rolando Asis and Manuel Mejorada, Law – Atty. Enrique Belo (Posthumous), Dean Alberto Villaruz (Posthumous), Medicine – Dr. Adolfo Bellosillo, Dr. Alfredo Bisnar, Dr. Rene Huinda and Dr. Alberto Roxas, Engineering – Engr. Edgar Diaz and Engr. Arturo Uvas, Military Service – Gen. Roberto Lastimoso and Gen. Raul Relano, Alumni Affairs – Engr. Edmund Beluso, Education – Dr. Elnora Barrios, Dr. Eveleth Gamboa, Eustaquio Arquisola, Loreto Regalado, Ramon Flores (Posthumous), Alice Argos, Maydelyn Antioquia, marina Hundana (Posthumous), Helena Ramos and Menia Alvidera, Student Achievement – Roma Padua, and Business – Pablo Chu.
The rain that night did not dampen the spirit of everyone. They were treated to the award winning dances of the high school and college dance troupes. They were listening intently to the message of Ambassador Alba as a response in behalf of the awardees and the closing remarks of Archbishop Gordoncillo.
By and large, it was a grand evening and inspiring at that especially when the final number was the singing of the CPC Hymn, so endeared to everyone.
CPC HYMN
Purisima beloved
Our hearts are all for thee
They crystal font of learning
With grateful hearts to thee we wing
Thy founder, brave and true
Blazed the trails over trials and sorrows
Thy name we cherish
Sweetly nurtured with bliss
Refrain:
With fervent prayers
From thy portals we would march on
Hope soaring high
Will resound with the challenge of time
Onwards we march
And raise the banner of glory forever
Hail, dear Alma Mater!
Hail to thee, all hail!
(Repeat refrain)