Josephians excel in NSPC'09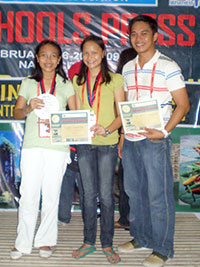 Vicah and Jasmine with Nicfranz de los
Reyes.
Two pupils from St. Joseph School (Iloilo), Inc. garnered major awards in the recently concluded National Schools Press Conference (NSPC) at Naga City, Camarines Sur last February 15-20, 2009.
Vicah Adrienne P. Villanueva, won First Place in On-line Writing and Second Place in Feature Writing in English while Jasmine Garet P. Jardeleza, bagged the Second Place in Sports Writing in Filipino.
"I didn't expect to win two major awards. Wow! We are fifty plus in my contest category, best writers in each region. With hardwork, determination and God's presence, I made it!" said Vicah after winning two awards in the said national competition.
Vicah won 3rd Place in the Regional Schools Press Conference (RSPC) in Feature Writing last year that made her qualify to the NSPC. Top three of the RSPC in all the categories are qualified to join the NSPC 2009.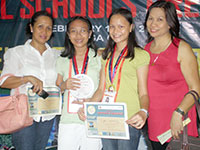 Vicah and Jasmine with their parents,
Diana Villanueva and Dialita Jardeleza.
Meanwhile, Jasmine awards' Highest Pointer Writer, First Place in Sport Writing and Second Place in Editorial Writing both in Filipino during the RSPC served as her passes to the NSPC.
"It is an overwhelming recognition given by God. I felt so blessed," Jasmine said.
Vicah and Jasmine, both Grade VI pupils, are Associate and News Editors, respectively of The Yellow Bird, the Official Student Publication of St. Joseph School.
Sir Nicfranz C. de los Reyes, The Yellow Bird adviser, accompanied the two pupils in Naga City together with their parents Mrs. Dialita P. Jardeleza and Mrs. Diana P. Villanueva.