Never too late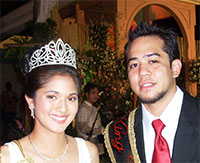 Her Majesty Marie Angelica Chan and
escort Leandro Torre.
February was such a hectic month for me, besieged with so many out of town invites which I have to attend to that I simply failed (not forgotten dearies) to put out in my column some of the best affairs I have been too. Some of these, were the colorful Chinese New Year Festival and the coronation of the Queen of Jaro. These depict the Ilonggos' fondness for pageantries.
The Chinese New Year Festival in Iloilo is considered as the biggest Chinese festival celebration outside Manila, which attracts a lot of local and foreign tourists. The major streets are turned into along food lane where all kinds of mouthwatering food are being sold by different hotels and restaurants. A colorful parade and dances by students from different schools enthrall the public. They don lavish Chinese costumes. A dragon dance and a spectacular firework display lit the city's skyline.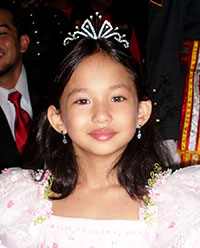 Children Fancy Dress Ball Queen
Ramona Isabel Chan.
The coronation of Jaro Queen is an annual tradition that spuns more than two centuries in which this heitage rich district is famous. They celebrate it for their most revered patroness, Nuestra Senora de Candelaria. Chosen from daughters of Jaro's most illustrious families, this year's Queen is Marie Angelica Chan, the youngest child of well-loved couple, businessman and composer Jose Mari Chan and the beautiful Mary Ann Ansaldo. The evening affair was elegantly prepared. Notable personalities from the political, social and civic circles came in full attendance.
What a beautiful Iloilo City we have! Cheers!!!