Preparing for Manggahan Festival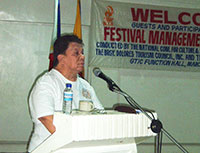 Dance guru Edwin Duero speaks to the
workshop participants.
Manggahan Festival, held every 22nd day of April, commemorates the provincehood of Guimaras. It is a week-long celebration where varied activities show the cultural heritage of the province.
In preparation for such, a five-day seminar workshop last March 2 to 6, 2009 was held at the GTIC Function Hall of Guimaras Provincial Capitol.
Artistic director and founder of the Edwin C. Duero (ECD) Dance Company of the Philippines, dance guru Edwin Duero spoke before an audience composed of the Manggahan task force, committee chairpersons, tourism officers of five municipalities (Jordan, Sibunag, Buenavista, Nueva Valencia and San Lorenzo), SBs on tourism and Community Based Rural Tourism (CBRT).
Duero shared his artistic knowledge and wide experience in dance performances throughout Asia, Europe, Canada, Africa and the United States. He talked on festival management, the roots of Filipino culture and their significance in Filipino festivals, festival planning and management, dance movement and choreography, performance, production design, costumes and props and concept/storyline writing and presentation.
The festival will feature the CBRT festivals and Manggahan Cultural display of five municipalities. The featured barangays are Napandang, San Roque, Lanipe, Dolores, Salvacion in Nueva Valencia; Hoskyn and Lawi in Jordan; Salvacion in Buenavista and Sapal in San Lorenzo. The said tourism effort consists of planned touristic experiences, which are integrated sustainably with the rural environment and developed by local citizen organizations for the benefit of the community.
The CBRT helps to preserve local culture as well as encourages the active participation of women. It also promotes conservation and the formation of community forest and marine reserves and it allows local families to take advantage of their natural resources in a sustainable way.
The National Commission for Culture and the Arts (NCCA) sponsored the seminar. It was in partnership with the Barangay Dolores Tourism Council, Inc. and the Provincial Government of Guimaras.