TWILIGHT
Dental Month and Your Smile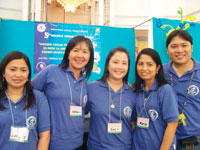 The four charming dentists posing with
the Chapter President Dr. Joemari Chua.
February is celebrated as the dental month and 2009 is the 5th Dental Health Week all over the country. The Philippine Dental Association – Negros Occidental Chapter headed by Dr. Joemari Chua conducted consultations, forums and smile contests.
A motorcade opened the day as the member dentists took a break from their dental practice in their respective clinics to be together for a cause to celebrate.
Among them were active Dr. Bambi Esleyer-Avelino and Dr. Frances Cadagat with the rest ensuring a successful affair as they move on their weekend missions to extend community dental services to other parts of the province.