Party at Fuoren Land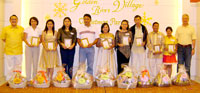 Outstanding Sales Agents.
Fuoren Land and Housing Development Corp, the developer of Golden River Village, held a party at the Grand Ballroom of Planta Hotel and Residences, Bacolod City.
There, the top outstanding sales agents for 2008 were recognized. In the head brokers category, the top agents were Aileen Relatorre, first; Narissa Andres, second; and Susan Abong, third. For the unit managers category, Sonia Repique, first; Ernesto Donaso, second; and Rosemarie Pillora, third. In the sales executive category were Esther Villafuerte, first; Edison Mayang, second; and Catherine Gentilezo, third.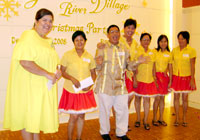 Narisa Andres & group with Marichel
Magalona (extreme left).
The party was made colorful by the production numbers of various sales executives, unit managers and head brokers. A sumptuous dinner followed.
Fuoren Land's office is located at Golden River Village, Lacson Extension – Magsaysay Avenue, Taculing, Bacolod City. Their telephon numbers are (034) 435-2567 and 435-2569.