PURR
Rotaplan Team saves lives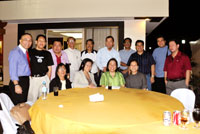 The Rotaplan doctors and members.
Giving an organ to another person so he or she can live is one of life's miracles. The presence of people who make such possible is also another miracle.
The Rotary Club of Iloilo West and the Rotary Clubs of Novato, California and Rotary Club of Davao (Rotaplan Team) has made possible the kidney transplant on two patients as well as numerous cataract operations recently.
One recipient is a four-year-old whose kidney donor is her niece while another recipient is a 43-year-old whose donor is her daughter. The operations were successful. In fact, the patients were already eating and talking to the team two days after the transplant.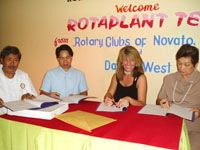 Signing of a memorandum of agreement.
It was the 13th and 14th transplant in seven separate missions in the Philippines.
According to Dr. Peter Bretan Jr., surgeon, it was the first laparoscopic surgey transplant made here.
Bretan is of Filipino blood but was raised in the United States. "This is my self-attempt to re-acquaint myself to my parents' rich culture. I've been in this practice for 30 years. I was able to find a balance in my career and personal life. I think it is important to do that because this is where you get your self-worth," he said.
"Doctors are life savers. Rotarians are catalysts to help bring about such miracle (saving lives)," he concluded.
Emma Nava, district governor of Rotary, thanked those present for their commitment. "Being of service to others makes life worthwhile," she said.