PURR
Philexport has own showroom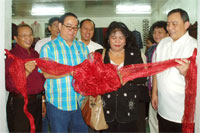 (Front) Mario Jiz, president of Philexport
Region 6-A; Manuel Mejorada, provincial
administrator; Norma Lao, Philexport
national trustee and Dominic Abad,
DTI regional director. (Back) Noe
Gumayao, Philexport Region 6-A past
president and Atty. Giovanni Miraflores,
representative of Mayor Jerry Treñas.
Jiz said that the group will undergo more trade fairs, both local and national. "Trade shows are held every quarter and we should be active in such because our showroom is not located in a strategic location (hidden)," Jiz said. Thus, expect the group to hold trade shows in malls here.
Jiz will also aim for an increased membership. Before, the group focused on exporters alone. Now, it is eyeing producers. "We can accept small producers. We can train to become big time producers someday," Jiz said.
For more information about Philexport, visit their showroom at the Old Capitol Building or contact Jiz at 3374574 or 0917-9910-561.
The need to act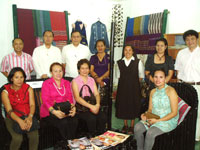 The exhibitors, guests and city officials.
Norma Lao, Philexport national trustee was the guest speaker in the said event. An exporter in the last 32 years, she explained to the guests why she talks really fast. I was even amazed at how fast she can talk but still very articulate. "With 1,000 exhibitors and 2,000 buyers in one area at a limited time, you have to learn how to talk fast," she said. That's one tip for the Philexport members on handling buyers during trade fairs.
She encouraged everyone to work better because the export industry had been affected by the US economic meltdown. She assured the exporters that the organization had been moving around the country to talk to future exporters. "Just embrace the power of trade fairs," she said.
Dominic Abad, regional director of the Department of Trade and Industry, said that the showroom should be a venue where all dreams related to exports be realized.