Gourmet Hub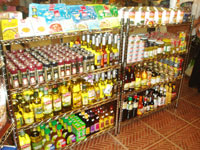 Canned and bottled vegetables and
condiments.
Hidden inside The Atrium is a jewel of a shop called Gourmet Club. If you're a certified gastronome and worship Bourdain, Batali, Flay and other such famous geniuses in the kitchen, then you know that a trip to this one-of-a-kind store can easily make your gourmet fantasies come true.
The shop might be small by some people's standards, but every nook and cranny is crammed with all the wonderful gourmet goodies you can think of. Step into its doors and you will find a variety of sausages, cold cuts, and fish slices like tuna and salmon. The first store in the city to carry USDA prime grade beef, expect the assorted selection of steaks and meats to be sealed well and packed perfectly to maintain their utmost freshness. The shelves of this little big store are also jam-packed with hard-to-find spices, canned and bottled vegetables, sauces, dressings, condiments, oils, and even nuts and chocolates!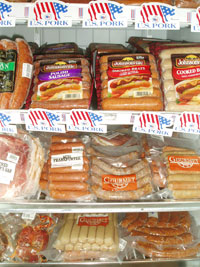 Lots of sausages.
Gourmet Club's recent opening-cum-blessing was also an opportunity for the owners to showcase the different dishes one can concoct out of the products being sold at the store. Gastronomic delights like Grilled Beef Skewers and Bell Pepper Salad, Miniature Beef Carpaccio, Tuna Ceviche with Roasted Corn, and Sous-vide of US Short Ribs served with Roasted Bell Peppers Foam were just some of the sumptuous dishes served for the guests.
Gourmet Club is indeed a hub for exquisite foods and ingredients. Everyone with a passion for cooking, dining, and everything gourmet can now rest easy -- Iloilo's first gourmet store has opened its doors to satisfy your discriminating tastes.
Gourmet Club is located at the first level of the Atrium at the Capitol near Tinapayan and Iloilo Supermart.