PURR
Pirates and more at Sky Cable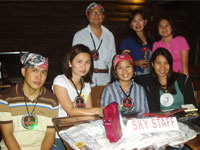 The Sky Cable team.
The biggest show on air, Sky Cable came up with a pirates-costume party one night when it launched the Pirates of the Caribbean Trilogy's showing in Star Movies and Sky Cable. The party was held at Pirates, Smallville. While having dinner, the guests were treated to a film showing of The Pirates of the Caribbean's three sequels --- At World's End, Dead Man's Chest, and Curse of the Black Pearl.
I learned that there will be a fourth movie in the franchise and is set for release in 2012. That's a bit far, but it would definitely be worth the wait. The proposed story was for Sparrow (played by Johnny Depp) and Barbossa (Geoffrey Rush) to meet in New Orleans before they sail to look for the Fountain of Youth. Too bad, the sexy and beautiful Keira Knightley said she no longer wishes to be Elizabeth Swann in the said movie.
Sky Cable has popular movie highlights showing every month. This month, it's No Reservation, a must-watch.