TWILIGHTS
Jun Rio still tops; turns 80 this '09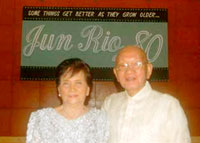 Sweet couple Jun and Tess Rio on his
80th birthday.
Bacolod City's prime posh destination, L' Fisher Hotel was turned into an evening of fun, memories and great food as soft-spoken Baldomero "Jun" Rio, Jr. welcomed his very own family, relatives, associates and friends to a beautiful celebrating with full vigor and happiness as Tito Jun turns lucky 80 that day.
Well, we arrived late at the hotel but we caught up with Tito Jun and closer family friends still dancing the night with music by Bagguer Villaluz. Seen on one table were Tito Irving and Tita Marlin Villasor, with Pat Martir and charming wife, including Dr. Tinton Javellana, a close friend of Tito Jun's daughter, U.S. of A. breed Louisa Rio.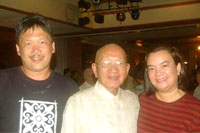 Jun the Birthday Star with Dr Tinton
Javellana and Your Twilighter Mini J.
It happens that Doc Tinton Javellana is my elder brod who happens to hold the title in the travel circle as "The 3rd Most Traveled Person in the World". And there was Roy Rio, Tito Nene Rojas, Francis Rojas and The Sunshine Boys, naturally, as Tito Jun is a member of the group.