Barangay Night In Jamindan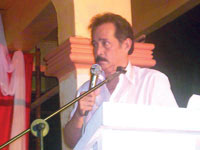 Congressman Fredenil Castro.
Recognized as one of the towns in the 2nd district of Capiz with the biggest voting population, Jamindan is often wooed by both politicians and political "wanna bes."
Aside from Jamindan Mayor Ethel Jinon and the Sangguniang Bayan officials, the night was also graced by Capiz Vice Governor Felipe Barredo and almost all mayors of 2nd district Capiz namely: Dao Mayor Joselito Escutin, Dumarao Mayor Leslie Warren Benjamin, Dumalag Mayor Lilia Castro, Tapaz Mayor Rosemarie Gardose, Mambusao Mayor Jose Alba, Sapian Mayor Arturo Orosco, Cuartero Mayor Roger Flores and Ivisan Mayor Felipe Yap. Only Sigma Mayor Maria Andaya was not around.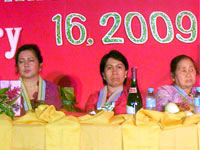 Jane Castro, Tapaz Mayor Rosemarie
Gardose and Dumalag Mayor Lilia Castro.
To top the local dignitaries turn-out, Rep. Fredenil Castro and his wife, Baby Jane Castro, were the guests of honor. During the affair, the Liga ng mga Barangay and the Sangguniang Bayan of Jamindan officially endorsed and announced their support to the congressman's wife to run for a congressional seat succeeding her husband who is on his last term.
Earlier, Rep Castro bestowed an ambulance, patrol car and fire truck to the town of Jamindan which were inaugurated and blessed during the day.