Rotary Club of Metro Roxas - Central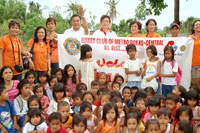 DG Emma Nava and Rotary Club of Metro
Roxas-Central with children
beneficiaries of feeding program in
Barangay Culajao.
The year that was
2008 was a busy year for ROXAS CITY METRO ROXAS-CENTRAL because of the various service programs and projects that they have undertaken for the Capicenos. The flagship project is "PROJECT LAKAT" which was conceived with the aim of bringing back to the mainstream society individuals who have undergone amputation of their lower extremity by giving out of free Jaipur Prosthesis or "artificial leg" to indigent amputees.
The PROJECT LAKAT is the brainchild of Dr. Michelle Beluso, a rehabilitation medicine specialist, and made possible in collaboration with the Disability First Foundation of the UP-PGH and the Majaveer Foundation. The project is also coordinated with the Capiz Emmanuel Hospital Rehabilitation Unit headed by its Board of Directors and Jesse Contreras as its administrator.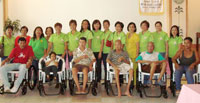 Project Wheelchair, giving of free
wheelchairs to qualified recipients.
Aside from giving out free prosthesis, the club also launched its "PROJECT WHEELCHAIR" by giving out free wheelchairs to qualified recipients. The Club does not only cater to the needs of people who are disabled but also looks into the plight of underserved communities. The Club adopted Barangay Culajao of Roxas City and Barangay Hipona of Pontevedra and these two barangays received one set each of Day Care Materials composed of nursery chairs and tables, television set, karaoke and video player with learning video tapes, books and water dispenser.
In line for the theme for Rotary Year 2008-2009 "MAKE DREAMS REAL" the club adopted a 3-point agenda in its adopted barangay through 'PROJECT BATANG CULAJAO" by providing nutritional support for malnourished children through regular day care feeding for six months; "PROJECT ILOY CULAJAO" a health literacy program and livelihood program for the mothers of the barangay. There are also other projects such as PROJECTS VOICE OF THE YOUTH, KONTRA POLIO, KONTRA RABIES, DUGO MO KABUHI KO, NARRA, DISTRIBUTION OF RELIEF GOODS AND MEDICAL MISSIONS, AND MONTHLY LECTURES.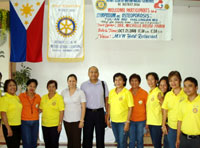 Sponsoring a symposium on
Osteoporosis.
The ROXAS CITY METRO ROXAS-CENTRAL is a very young club, chartered only last November 1, 2006, but it is geared towards finding its niche in the Rotary world through its service-oriented projects. The officers for Rotary year 2008-2009: Chit Noche, M.D. (president), Sally Gadong (vice president), Daisy Yap (secretary), Joy Bisnar (treasurer), Cynthia Artillero (auditor), Dolly Buday (PRO), Nene Capapas (protocol officer) and Roselyn Alovera (president-elect). The heads of the different committees are: Past President Margarita Oquendo for membership, Michelle Beluso, M.D. for service project, Tina Delfin, M.D. for club administration, Consolacion Botin, M.D. for the Rotary Foundation, and Dolly Buday for public relations committee.