A Fantabulous Welcome!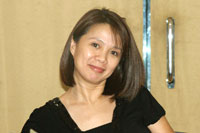 The planner..Susan Ramos.
She did it again…this time, with more feelings than usual. I'm talking about Susan Yulo Ramos hosting a welcome party ("parties" is a better word) for friends jetting in from the States, namely, Grace Akol of Fort Myers, Florida, and Mylene Hilado of Los Angeles, California. The first venue was at the Business Inn along Lacson Street, and it wasn't just a table in the corner of the lobby's restaurant. She booked a function room, and made sure everything was in place before the guests walked in. So, when the balloons were set, and the wine was chilling, and the food was heating up, and the music was playing, and the "beso-besos" were done and over with, the riotous laughter and screaming started. Simultaneous conversations took place and it was amazing how we still managed to understand each other.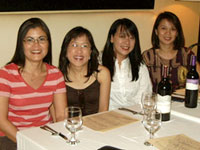 A must for every balikbayan's vacation --
21's Batchoy.
The gal is a natural when it comes to entertaining and organizing events, and she doesn't even get paid to do it because it's all done for L-O-V-E! She made sure her guests were given a relaxing day at the beauty parlor and a taste of Bacolod's delicacies which they've missed. And yes, she will find people you haven't seen for ages, and make you wonder how in the world she found them.
And that's exactly what Grace and Mylene had here in Bacolod. Friendships were rekindled from people they haven't seen for years, which was just the main ingredient for a vacation loaded with fun and laughter. They didn't just get one welcome party. Instead there were numerous gatherings while they were here: 21 Restaurant, Ayala North Point, and Kubo sa Lawn. Friends who pitched in on the laughter were ANP President Mary Ann Colmenares, Maricel Monfort, Ruby Poblador who gifted everyone with her homemade crochet products (lovely!), and Cecile Bautista of The CompanY, who was just taking a break from the launching of the group's new album "Group Hug". There were many more Susan gathered for Grace and Mylene, but the list is way too long for this column.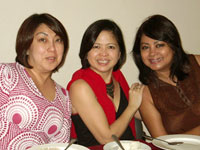 Maricel Monfort who jetted in from
Palawan and Manila, Mary Ann
Colmenares (ANP President), and The
CompanY's Cecile Bautista.
Susan's welcome treatment knew no bounds, and although Grace and Mylene may be headed back to the States soon, the memories they got while in Bacolod are, well…priceless. And the proof is inside their overworked digital cameras!