The call of the wild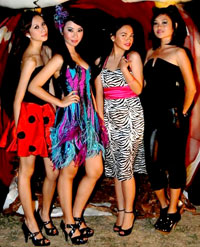 Jennifer Maridable (Lady bug), Amanda
Trenas (Peacock), Lala Badiola (Zebra)
and Kate Locsin (Cat).
One of the best soirees before the year end happened at the Volkswagon Club along the Board Walk Avenue in uptown Iloilo City. It was the 18th birthday party of young fashionista Amanda Trenas who commanded all her guests to come in their wild animal inspired clothes. Amanda was the most stunning in her peacock dress made exclusively for that night by the famed fashion designer Rajo Laurel.
A huge leopard head was made as the entrance with torches placed along the way leading guests into the jungle place. The fabulous props were designed and executed by well known set director Kevin Piamonte no less. A firework display opened the party. After that, was the the rock band played with Amanda's brother Jay as its lead singer. A surprise number from the celebrator's close friend Kate followed. She sang two songs with the band.
An awesome fire dance was performed by the talented Jay Garovillo that almost set the crowd in a frenzied state.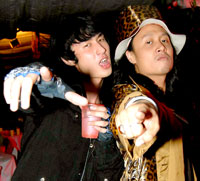 Quito Trenas (Snake) and Jay
Trenas (Leopard).
The all ready hot affair turned a degree higher when sexy dancers started to get on with their wild dancing inside their cages --- the signal to let the party begin . DJ Jason of the fabulous Flow Super Club did a superb job of putting the crowd on the groove the whole night long. Everyone just had a great time.
What a town, what a night! Cheers!