Tadtad Tattoo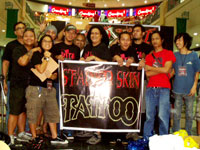 The tattoo artists.
Tadtad Tattoo held at the Robinsons Place Iloilo gathered tattoo artists from around Visayas to compete recently.
There were 13 artists and 13 models coming from Iloilo, Bacolod, Cebu, Dumaguete and Boracay, who joined.
Tatz Coscolluela, a tattoo artist of Stained Skin, located at the Bazaar of Robinsons Place Iloilo and organizer of the event, emphasized that the United Professional Tattoo Artist's (UPTA's) theme for the competition is the safety implementation of tattooing and to educate and renew the perception of people as regards this art.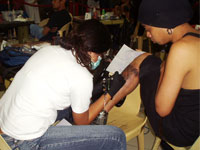 Vina Figura, lone girl participant and
winner for the Beginner Level.
According to Coscollela, all the materials used for the competition and for Stained Skin's clients are safe disposable materials passing the screening of Trade and Industry (DTI) and Department of Health (DOH) .
The winners received a certificate from UPTA and equipment such as tattoo machine, needles and ink worth 4,000.
The winners for the henna level were: John Carlo Padilla, 1st place; Sam Espinosa, 2nd place; and Chris Consolacion, most dramatic design. For the beginner's level, the winners were: Vina Figura, 1st place; and Chris Amtig, 2nd place. The special awards winners were: Jake Solutan, Most Intricate; and Ating de Guzman, Most Unique. The winners for the professional level were: John Red Alipar, 1st place; Billy Juela, 2nd place; Chag Lobaton, Most Intricate; and Jun Jun Tiberio, Most Unique.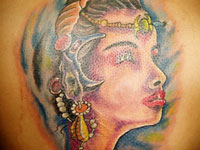 Winning tattoo, Professional Level.
The competition was sponsored by Robinsons Place Iloilo, The News Today, Picture City and Marikudo Community Chapter.