Construction giant E.C. De Luna Construction Corporation, the company behind major multi-million road projects in the provinces of Antique, Iloilo, Negros Occidental and elsewhere in the country has been blacklisted by the World Bank (WB).
As such, the order is out permanently barring the company and its owner, Eduardo De Luna from participating or getting any WB-assisted projects.
Iloilo's top tourism event, the Dinagyang Festival formally opens today with an opening salvo at the Freedom Grandstand.
The Iloilo Dinagyang Foundation Inc., the Festival's organizer, regularly holds the opening salvo to signal the formal opening of the Dinagyang festivities and the start of various Dinagyang-related activities organized by the private sector.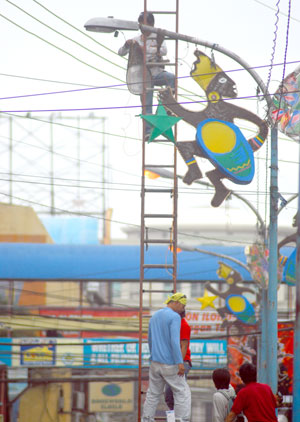 A. CHRIS FERNANDEZ
The lingering effects of the massive flooding seven months ago have failed to dampen the drum-beatings and the melodic tune of lyres in the capital town of Kalibo in Aklan as residents celebrate the annual Ati-Atihan festival this week.