Greenpeace: Save Boracay Save the Climate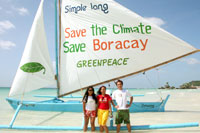 A pose in the Simple Lang Save the
Climate Save Boracay Paraw.
The issue and threat of the changing climate is so apparent that its prominence is internationally acclaimed and is continuously taking the center stage. It can not be discounted that the Philippines ranks among the most vulnerable countries when it comes to the impacts of climate change. Many have been victims to a number of typhoons and storms that battered the country and worst the intensities of which have become alarmingly stronger in recent times.
As an archipelagic nation, there is impending threat that many regions in the country could be submerged including the famed Boracay Island, the country's most sought tourism destination. According to Amalie Ubusan of Green Peace, tourism is considered to be a highly climate-sensitive economic sector and climate change will become an increasingly pivotal issue affecting tourism development and management.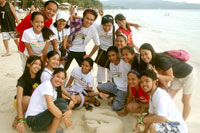 The Green Peace Solar Generation Team.
Believing that there is an immediate need to combat the danger posed by climate change, Green Peace- the world's most dynamic environmental organization is now working on the Save the Climate Save Boracay Project with support from Solar Generation (Green Peace Youth Arm); Boracay Foundation; Department of Tourism; Municipality of Malay Aklan and other cooperating organizations.
The project aims to initiate solutions that will help mitigate climate change by making Boracay a climate-friendly destination through energy efficiency, zero waste management and responsible tourism. It was officially launched on June and followed by the signing of the manifesto on July 19, 2008. The manifesto includes energy efficiency and renewable energy in the regulations, policies, applications & processes; implement energy efficiency and renewable energy programs through workshops and skill shares; implement island-wide programs, awareness campaign and knowledge on Renewable Energy Bill.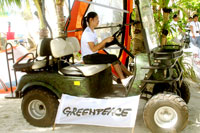 The battery operated car.
From August- November, a survey was done to know the current environmental practices of resorts in the island.
On December 13-14 Green Peace Solar Generation Youth and Boracay Foundation Inc., led the exhibit on Renewable Energy which featured the Solar Panels powering laptops, flashlights chargers among others. There was also the solar bar, wherein tourists enjoyed fruit shakes powered by solar panels. Additional attraction to the exhibit was the battery operated motorcycles, motorbikes and car. Posters, pictures and video presentations of Renewable Energies were put on display. The exhibit gave an opportunity for tourists and local folks to learn simple ways to become Energy Efficient and take on small steps in mitigating the impacts of climate change.
Moreover, on December 15, a workshop on Energy Efficiency for Resorts held at Willy's Beach Club Hotel Conference Room gathered together resort owners. It aims to encourage resorts to reduce their carbon footprint in line with making Boracay a climate-friendly destination starting with energy efficiency and the uptake of clean, renewable energy.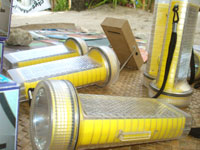 Solar flashlights.
Amalie Ubusan discussed Climate Change and its impact on Tourism while Beng Reyes Ong presented the Survey Results and introduced the Simple Lang Save the Climate Save Boracay Solutions; both are Green Peace Climate and Energy Campaigners. Energy Efficient tips were shared by Engr. Ricardo Ileto, Corplan Manager, Aklan Electric Cooperative. Arch. Miguel Guerero of Green Architecture Movement talked about Green Architecture and the importance of reduce reuse and recycle while Ferdinand Raquelsantos of Solar and Wind Power, Inc. made a clear discussion on Solar Power and its benefits.
As Greenpeace put it typhoon can ruin a holiday but Global climate change can ruin a holiday destination. For now, the efforts to mitigate the impacts of climate change through Save the Climate Save Boracay Project is so consoling so long as resort owners will commit to promote good & environment-friendly resort management and tourists doing simple acts while enjoying the island pleasures.