A Rider's Opening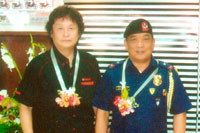 Yoshiaki Taneda, President of Yamaha
Motor Phil. Inc. and Philippine National
police Special Action Force Director,
Chief Supt. Leocadio Santiago Jr.
A new branch of Solid Yamaha opened is door in their new building in Roxas City recently with the top brass of Yamaha Motor Philippine Inc. President Yoshiaki Takeda pesonally gracing the grand event. Also present during the opening and inauguration of the new venue was Pablo Chu, president of Solid Motorcycles Distributor Inc. with the Philippine National Police Special Action Force Director Chief Supt. Leocadio Santiago Jr. as its guest of honor.
Some of the province's socially prominent personalities and government officials were also invited to witness the grand affair. A sumptuous buffet lunch followed, after which visitors were able to view the different latest models of motorcycles ready for the market.
Pablo Chu, President of Solid
Motorcycles Distributors, Inc., Au
Palomar, Chief Superintendent Leocadio
Santiago Jr. and Bobbie Cherry
Santiago.
Solid Yamaha had been enjoying a huge patronage from the travelling public since its brand name had been a house word in motorcycle's high performance and durability.