Bazaar for a cause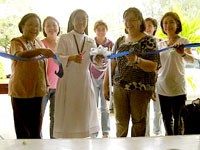 Sr Rebecca cuts the ribbon to open
the bazaar.
Every year, the St. Scholastica's Bacolod Alumnae Association, Inc. (SSBAAI) hosts a Christmas Bazaar at the school's gymnasium. This year, the bazaar was held from December 10-12, 2008, and was participated by various concessionaires selling food, clothes, toys, fashion accessories, native products, and even second-hand clothes. Analaou de la Rama-Celdran (Batch '82), president of the Association, was happy with the turnout of buyers and sellers, which were all for a good cause. Aptly entitled "Bazaar for a Cause", the activity saved money for the completion of the school's canteen. Sr. Rebecca Maglalang, OSB, SSAB's directress, initiated the ribbon-cutting ceremonies to formally open the bazaar. Everyone had a great time shopping, eating, and chatting the day away! Maridel Gamban made sure the gym was ready for the event, and friends from Batch 82 like Mia Legaspi, Rosa Lacson, Jaye Hedriana, and Pili Mendezona manned the entrance for the stampede of buyers.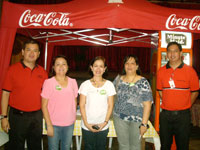 Flanked by Coke are Maridel Gamban,
Rosalie Yulo and Analou Celdran.
It was a reunion of classmates, and a chance to see friends from other batches. Alumnae from various years were working together for their alma mater, and it was also a chance to promote the association's new project. Mitch Valdez, the Philippines' top comedienne and also a Scholastican, will be having a pre-valentine show entitled "LAUGH YOUR HEART OUT WITH MITCHiefs" on February 7, 2009 at the Sanctuario de La Salle. Everyone will be gasping for breath as Mitch brings the house down with her hilarious acts. GMT, Bacolod's leading dance band, will also perform on the show making sure they bring everyone to the dance floor. The show starts at 7:00PM. Make it a different Valentine's date this time by spending it with Mitch Valdez.