Longtime massive downstream quarrying in the once rich Suage River is feared to eventually cause the collapse of the historic Suage Bridge in Janiuay, Iloilo.
A moratorium of at least two years in all quarry operations in Janiuay, Iloilo is sought amidst growing and gnawing concerns on massive environmental damage here.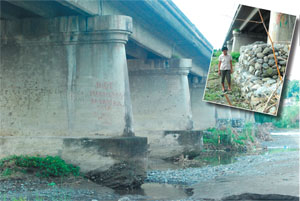 A. Chris Fernandez
The Philippine Health Insurance Corp. (PhilHealth) has ordered a stop to payment of claims for cataract surgery during medical missions and through recruitment schemes amid reports of irregularities in claims of hospitals and doctors involving hundreds of millions of pesos.