The Promenade features US Beef Hanging Tender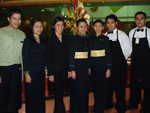 The friendly and efficient staff
of The Promenade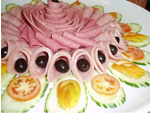 Cold Cuts Platter


A hanging tender is a cut from the internal diaphragm pillar muscle of the cow. This beef is actually very tasty and succulent.
Fresh from the United States, gourmet selections of US Beef Hanging Tender are being featured in Days Hotel's The Promenade every Saturday of October. For only P495, one can enjoy this gastronomic delight along with assorted fresh seafood, international cuisine, carvery roast and mouth watering desserts like the chocolate fondue and crepes.
Also try out The Promenade's monthly favorites. The drink of the month is Purple Spirits, a thirst quenching blend of tropical fruits complimented with a hint of brandy and rhum. The dessert of the month is Chocolate Truffle Mousse Cake at P145. This is a decadent German chocolate cake accented with Irish cream served with an almond praline accent. The cake of the month is Berry Dreams at P145. This is a sinful layer of mixed berry cream on a frozen cream cheese base nestled on a crust of double chocolate chips.
Check out The Promenade's luxurious tastes this October. For reservations, call 337-3297 or 336-8801.