KCARSI: Nearer & Better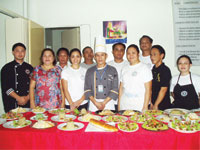 KCARSI Founder and President, Concepcion Carillo (2nd from left, front row) with some of the centerís students.
THE Kryz Culinary Arts and Restaurant Services Institute (KCARSI) is providing a nearer and better venue for persons who would like to take up culinary arts and earn a diploma in just six months.
Their center has transferred to Cischo Building, Delgado Street.
The working space is more organized and well-ventilated and the facilities were upgraded. There is a separate corner for the kitchen, another for the room service, one for restaurant service and likewise for the food presentation.
KCARSI offers Culinary Arts and Restaurant Services (CARS) for the following qualifications: Commercial Cooking NC2 (550 hours) and Food and Beverage Services NC2 (506 hours).
KCARSI is accredited by the Technical Education and Skills Development Authority (TESDA).
KCARSI conducts its courses in varied municipalities of Iloilo as well. Recently, it has opened its Bingawan Campus, making KCARSI education accessible to students who live in the area and its neighboring towns.
They also have a branch called Mayhekz Arts and Restaurant Services Institute (MCARSI) located at Fuentes Drive, Roxas City.
Those who would like to enroll in KCARSI can visit the center at the 2nd floor of the Cischo Building, Barangay Mabolo, Delgado Street, Iloilo City. For inquiries, call 5086714, 8570704 or 0908.9289.284. You can also send an e-mail to kcarsi_2002@yahoo.com.ph.