PURR
Tibiao Fish Spa Bigger and better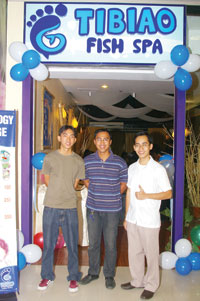 Noel Ferriols, Flord Nicson Calawag and Rex Dianala are the young owners of Tibiao Fish Spa.
This exciting exfoliating experience started from a backyard hobby in Tibiao, Antique. Then, it became a business that wanted to promote the tourism of the said town. But every good thing is bound to be discovered by more people and is expected to expand. Just like Tibiao Fish Spa.
Tibiao Fish Spa offers one-of-a-kind experience by combining the relaxing and exfoliating effects of fish nibbling on a person's layer of dead skin. It is totally safe, totally fun, and very effective.
"We had the fish spa put up in our town in order to improve tourism in Tibiao, Antique. Then, many Ilonggos went to Tibiao and enjoyed the experience. They wanted us to open one in Iloilo," Flord Nicson Calawag, one of the owners said.
So, he and partners Noel Ferriols and Rex Dianala started with a 30-day exhibit in SM City Iloilo. Fish spa lovers in Iloilo continued to come and enjoy the experience they once had in Tibiao. Then, curious Ilonggos started to try the services as well. The clamor for Tibiao Fish Spa continued until the business partners decided it's time to stay for good.
Thus, Tibiao Fish Spa transferred to another location within the lower ground floor of SM City Iloilo. It underwent renovations and has recently held its grand opening. It is now bigger, better and boasts of new facilities.
Tibiao Fish Spa also added services–reflexology, Swedish, Shiatsu and traditional massage.
Experience the fishpalaxing lifestyle at Tibiao Fish Spa!