Iloilo Gov. Arthur Defensor Sr. has ordered the creation of a fact-finding committee that will investigate the quarry operations near the foot of Mount Angas in Sitio Taras, Brgy. Natividad in Barotac Viejo.
The Panay Power Corp. has denied the claim of the Freedom from Debt Coalition-Iloilo that the daily power outages in Iloilo City is a result of a "manipulated power crisis."
It is caused by insufficient power of Panay Electric Company, the sole power distributor in Iloilo City, said Engr. Adrian Moncada, vice president of Global Business Power Corp. (GBPC), parent company of PPC.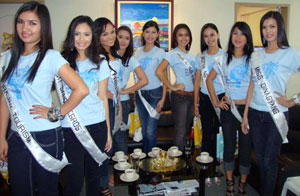 Montesa Griño-Caoyonan

Three siblings and their friend were arrested following a drug bust operation at Brgy. Bakhaw in Mandurriao district, Iloilo City Wednesday evening.
The year-end bonus of the more than 2,000 regular and casual employees of the Iloilo Capitol will be released on November 16 and 17, Gov. Arthur Defensor Sr. said yesterday.