PURR
My Pizza, My Cake!
A pizza and cake decorating contest with granny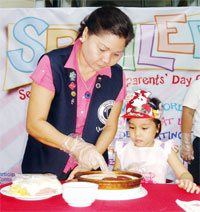 First prize winner and team 4, Christine and Yanna Borromeo representing Quota International.
To celebrate Grandparents Day, Robinsons Place Iloilo held a Pizza Decorating Contest and a Cake Decorating Contest for a grandparent-grandchild tandem. The participating teams represented the various socio-civic clubs that supported the celebration. They were the Zonta Club of Iloilo City I and II, Quota International and Panay Council of Lions.
For the Pizza Decorating Contest, the team of Christine and Yanna Borromeo won, followed by the team of Gladys Cordero and Patricia Tajanlangit and the team of Gloria Castro and Rafael Enano.
For the Cake Decorating Contest, the team of Dulce and Karla Zulueta won first place, the team of Baby and Kathlyn Lim won second and the team of Grace Felotano and Mariel Velez won third. Each team received a cash prize while the club that they represented received a corresponding amount as well.
The same teams participated in both the Pizza and Cake Decorating Contests, with Felotano and Velez' duo joining only in the latter.
The Pizza and Cake Decorating Contests were such a good idea because through these events, the grandparents and their grandchildren bonded by helping each other out beat the other teams. It was also a great opportunity for them to unleash their creativity while the rest of the family members cheered on. (Some photos courtesy of Rosmar Villalon)