Skin So Soft
A body scrub affair at Spa Riviera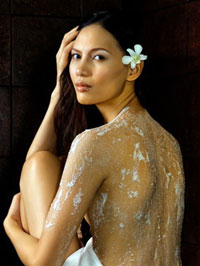 One of Spa Riviera's body scrubs on Ria Bolivar, Ilongga and international model.
I HAD a body scrub at Spa Riviera last month and now I know why people are addicted to it. The 30-minute exfoliating experience left my skin smooth and so soft, so I vowed to do it monthly. Spa Riviera's varied body scrubs are a favorite next to their body massage service, said Babes Rivera, owner.
As a treat to body scrub lovers and to those who want to have healthy, clean, smooth and soft skin, Spa Riviera launched more varieties. There's a body scrub package for each month. That's four amazing months and four amazing scrubs, wraps and facials.
Sweet August
This August, Spa Riviera offers its Muscovado with Lime Body Scrub package. "We use organic muscovado, that is why it has no synthetic feel; it is not greasy," said Rivera. Muscovado sugar still contains vitamins and minerals from sugar cane. Then, lime is an antiseptic, disinfectant, anti-viral, astringent, aperitif, bactericidal, febrifuge, haemostatic, restorative and tonic.
I was able to try Muscovado with Lime Body Scrub. It was pampering at its best. After the Muscovado with Lime Body Scrub service, I had Papaya Wrap. In this service, the therapist spreads fresh papaya extract and lime on one's whole body and then one is being wrapped by plastic.
Since I had to wait for 30 minutes for the papaya and lime's vitamins to penetrate my skin, the therapist provided me with a facial service. First, a facial mask is applied. When it hardens after a couple of minutes, the mask is removed along with one's whiteheads and blackheads. After that, yogurt moisturizer is applied. Yogurt contains a form of lactic acid that restores the natural pH to your skin and moisturizes it.
Earthy September
On September, Spa Riviera will offer its Rice and Ginger Body Scrub Package. Rice can smooth the skin's roughness, lock-in moisture as well as counteract free radicals that make the skin age. Ginger, on the other hand, is an antiseptic.
Oats In October
On October, Spa Riviera will offer Oatmeal and Yogurt Body Scrub. Oats are good exfoliants as well as successful in treating skin problems like acne, pimples, blemishes, eczema, dermatitis, shingles and herpes. Meanwhile, yogurt is effective at cleansing and disinfecting pores, preventing acne, moisturizes the skin and revitalizes its texture.
Nutty November
On November, it's Nuts and Honey Body Scrub. Nuts prevents the damage caused by free radicals on the skin while honey removes wrinkles. It is rich in vitamins, minerals, and amino acids, which are wonderful beauty aids that nourish the skin. Honey is an effective antibacterial and antifungal agent.
Each package costs P600 for gift cards and P800 for walk-in clients. If you wish to undergo four packages, so much the better, at P2,000.
Spa Riviera's other existing body scrubs are Java, Balinese Boreh and Oriental Body Scrub. Java Scrub is good for whitening because it uses citrus and rice granules, considered as good exfoliants. Balinese Boreh uses essential oil with ground ingredients (a Spa Riviera secret). This service is ideal for those who want a massage in the process. Then, Oriental Body Scrub involves dry scrubbing.
Discounts
Spa Riviera offers discounts during its off peak days and hours. They are on Tuesdays and Wednesdays from 1 to 11PM, Monday, Thursday and Friday from 1 to 4PM and Saturday and Sunday from 10Am to 1 PM.
Spa Riviera is located at Jabez Building, Gen. Luna Street and can be reached through telephone number 5090209.*