Blessing of Capiz Emmanuel Hospital's New Facilities and Ambulance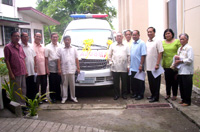 Dr. Nilo Delfin, FCU VP-Administration; Samuel Felasol, vice chairman, BOT; Dr. Expedito Señeres, FCU president; Rev. Eliseo Fantilaga, BOT secretary; Jessie Contreras, hospital administrator; Atty. Mariano Dioso, BOT chairman; Rev. Judson Hubilla, Sr., CPBC general secretary; Remulo Legada, Dr. Danilo Pamplona, Dr. Rebecca Basiliano, and Remedios Vingno, BOT members.
CAPIZ Emmanuel Hospital (CEH) recently had a blessing of its renovated facilities such as its Emergency Room and Trauma Rooms and its new ambulance donated by Philippine Charity Sweepstakes Office (PCSO). CEH is the first private hospital in the country to receive an ambulance donation from the said agency.
Hospital Administrator Jessie Contreras said that private hospitals do not usually get ambulance donation from the national government, however, the CEH eventually became a beneficiary.
"It is God who provided this. Nothing is impossible in Him," Contreras said during the blessing rites for the vehicle and the renovated rooms of the hospital. He revealed that his request was granted through the assistance of Betsy Parojinog, finance officer of PCSO, a niece of former Sapian Vice Mayor Jose Parojinog. The Proton ambulance costs P950,000.
Contreras also assured the PCSO that the financial aid the agency released for indigent patients will be properly used.
Atty. Mariano Dioso, chairman of CEH Board of Trustees, thanked God for providing the ambulance, and also acknowledged Contreras for facilitating the acquisition from the PCSO.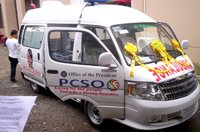 The Proton ambulance, which costs P950,000, donated by PCSO to CEH.
Capiz Emmanuel Hospital is now one private hospital in the province of Capiz that is equipped with the latest medical equipment and its facilities and rooms are newly refurbished so that it could provide quality medical care to the people of Capiz. The hospital also boasts of a strong line-up of skilled physicians and competent nursing staff.
As always, To God Be the Glory, for more than a century of existence of the hospital in the province of Capiz!