25 years after … the NOHS way from Batch 85'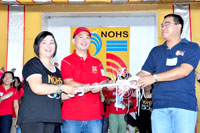 Batch 85' North America coordinator, Meriel Alvia and batch president, Frederick Ballesteros turnover the hosting key to next year's host, Batch 86' president, Neil Cruz.
The year was 1985. On an April afternoon, what remained of the 40 so sections we started with when we first entered the gates of Negros Occidental High School finally marched to bid goodbye to our youth.
Like any other high school graduates, we felt both excitement and trepidation on what awaits us beyond our mostly sheltered lives and adulthood.
Twenty five years later, last April 24 to be exact, more than 200 of us trooped back to pay tribute to our alma mater, to our mentors, and to reconnect with classmates, some of whom we last saw in 1985.
This event happens every year.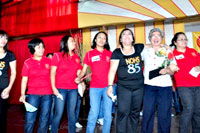 Tribute to a mentor, Batch 85 with Ms. Adelina Sampiano.
The people, the program, and the organizers change but the sentiments, the stories told of high school life, updates of present life, remembering the mentors, the good and the bad times, the love-affairs then and now are almost always constant.
And each year, the host batch ensures they will make their alma mater proud.
Thus, as the 2010 Silver Jubilarians, preparations started almost a month before D-day. Of course, planning for the grand affair took years, notwithstanding the tears, sweat and even misunderstandings among former classmates to make sure that the homecoming will be successful.
A week before the reunion, classmates from other parts of the world arrived to join dance numbers and help in the preparations. Our class valedictorian, Monina Faunlague-Kauffman, flew in just in time from Switzerland to deliver the batch's message.
Other batch mates from Italy, Australia, United States, England, Saipan, Dubai, Hongkong and Singapore joined in the merry-making but of course the working committee were those who remained here in Bacolod.
The day came and went, and like previous years, it ended beautifully with a few hitches admittedly, but one that will definitely go down the history of NOHS' homecomings as well-organized.
One day is definitely not enough to catch-up for the last 25 years and so, a post-homecoming party ensued in Mambukal Resort – again to share more stories, reminisce old times and celebrate togetherness.
Days later, we went back to our daily lives but this time, the memories are fresh, the ties stronger and proud to be called NOHSians.