I-TRAVEL
Remembering Rudy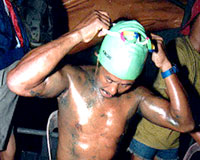 Rudy Fernandez.
Perhaps a lot of us know about Rudy Fernandez and have missed him. I-Travel for one, could not forget him and I'm so happy to know that he's still active. I learned about this from some mutual friends who went long distance biking with the great Rudy F.
I had the rare opportunity to witness and cover his swim from Bacolod to Iloilo sometime ago.
Rudy F is not an ordinary biker. He is also a great endurance swimmer.
Fernandez had an amputation at the thigh of his right leg after a bomb explosion in Alegro Theater in 1998. He now has a titanium prosthetic leg.
Despite his handicap, Fernandez has competed in running, swimming and cycling. One of his feats was swimming from Guimaras to Iloilo in 1996. He called the experience as the triumph of one's mind over matter. His other feats include being a participant in a competition in Singapore in 2005; torchbearer for the 2001 SEA Games and the Palarong Pambansa 2005 (Philippine National Games).