Promoting Online Journalism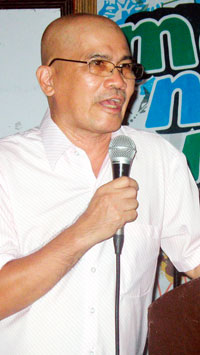 Allen del Carmen talks about photo blogging.
Information officers, representatives from various government agencies and school paper advisers from colleges from Region 6 recently attended a seminar on Online Journalism held by Smart Communications, Inc. (SMART) in partnership with the Philippine Information Agency (PIA) Region 6 in Iloilo City.
The event was part of SMART's journ.ph program, an initiative that seeks to promote the use of technology for campus journalism. It was attended by some 60 participants from all over the region.
journ.ph has several components among the partnerships with local media and journalism practitioners, a mentoring and training program for journalism students and local media, and an online content management platform.
The Region 6 seminar seeks to encourage information officers and local media to contribute to the journ.ph platform and be part of the mentoring program.
Experts from the region's local media were on hand to provide insights on various Online Journalism topics with the participants. Nereo Lujan of the Daily Guardian discussed Online Journalism and Cyberlaws. Francis Angelo, also of the Daily Guardian, tackled Basics of Blogging. Meanwhile, Allen del Carmen of the Visayan Daily Star, shared his experiences as a photo journalist for the topic Photo blogging and Editing Photos for the Web.
Participants were then provided with hands-on training on the journ.ph platform. They were able to upload their own blogs. Participants interested in the mentoring program and in becoming contributors to the journ.ph website were asked by SMART to sign up.
journ.ph is part of Kabalikat sa Edukasyon, SMART's flagship corporate responsibility program for Education initiatives.