PURR
Max's Giant Halo-Halo Launch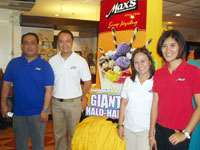 Arnie Demerin, Bobby Simborio, Cathy Perez and Jessa Bien.
The invitation was for a press conference as regards the launching of Max's Restaurant's Giant Halo-Halo. But it was no ordinary press briefing where speakers usually explain what the product is all about and the press people sit down, take notes and ask questions. As soon as we arrived at Max's SM City Iloilo Branch, were asked to decorate some black deco bags with flowers and paints. It was a contest and fortunately, it was Purr who won and got a desk fan as a prize.
The fun did not stop there. We were also asked to group ourselves into three, with six members each. Each group has to finish one Max's Giant Halo-Halo each and the first group to finish will get dinner certificates to the said restaurant. Our group did not win because we decided to slow down and savor every bite of Max's Giant Halo-Halo. We indulged in generous ingredients like macapuno balls, sweet beans, red mongo, garbanzoes, banana, kaong, gulaman, nata de coco and langka, shaved ice soaked in milk, topped with ube, leche flan, a generous sprinkle of rice crispies and cheese, plus three huge scoops of ube ice cream.
Max's Giant Halo-Halo is really great-tasting. It is also ideal for sharing with family and friends for only P375.