Swan Lake of the NCGonzalez School of Classical Ballet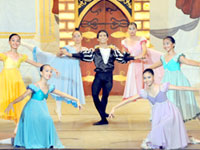 Christine Saquibal, Pia Fernandez, Noreen Perez, Lester Reguindin, Thea Bartolo, Angelique Arlegui and Ingrid Astronomia.
What a treat indeed. For Iloilo City balletomanes and those who were fresh initiates to classical ballet the rare opportunity of watching Swan Lake was like manna from heaven. NCGonzalez School of Classical Ballet under the helm of its very able directress, Nila Claravall-Gonzalez, who is celebrating her 25th anniversary in teaching dance in Iloilo City, came up to produce such a challenging full-length repertoire that formed part of a series of dances in celebration of said anniversary. It is worth noting that no dance company or dance school in Iloilo has ever attempted to stage a full-length Swan Lake until Ms. Gonzalez took up the challenge of staging one with the help of her long-time dance collaborator, Metro-Manila based Mr. Brezhnev Larlar. Swan Lake is considered to be the ballet of all romantic ballets. Swan Lake is synonymous with ballet itself. The technical and artistic demands of the dance makes it every ballerina's dream to dance the dual roles of Odette/Odile – main characters of the romantic ballet. Swan Lake as a full length production was presented to Iloilo City audience at Assumption Convent's St. Anne's Hall, followed by a presentation of Swan Lake Act II( along with other dances) at the SM City Activity Center in conjunction with Iloilo City's Aire Baile program. Essaying the dual role of Odette/Odile was Ms Czarina Othellie Dawn B. Villegas who took a brief time-out from her Ballet Manila commitments (the dance company she is currently affiliated with) to come home and dance for her revered former ballet teacher. The repertoire in full four acts was downscaled to suit the limited number of dancers, while remaining faithful to the substance of the story.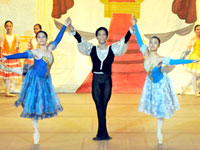 Isabel Gonzalez, Lester Reguindin and Catherine Alianza.
It is to Ms. Gonzalez'es credit that her sensitivity to the ballet audience gave her the clever impetus to present introductory readings to every act of the ballet in order to make the telling of the story clearer and understandable, and thus make the dance more enjoyable especially to first-time ballet-goers. Swan Lake in its full repertoire comes in four acts with usually one ballerina doing both Odette/Odile roles, thus, challenging the dancer to effectively delineate the roles through the embodiment of nuances and musicality of movements. Thus, we see Odette as interpreted through musical intonations by Ms. Villegas is all love and hope, although she is very cautious and uncertain of her Prince, whom she expects to finally cast her out of the evil spell of Rothbart. It is fair to say that Odette, the Swan Princess embodies pure ideal with emphasis on her ethereal quality, and the audience sympathize and admire her. The character of Odile, the magician's daughter on the other hand runs counter to that of Odette's, – elegant, fascinating and wily, a beautiful seductress who is almost triumphant in hiding her evil intentions. Ms. Villegas, young as she was, and considering that it was her first attempt at doing the dual roles, worked hard within a short span of time to master both the technique and the drama, to "make arms to be wings", and to use the upper body along with strong legwork to produce strong emotional nuances necessary for both roles. Ms. Villegas, very slender, and with an air of vulnerability, along with her pure classical ballet background ably interpreted the romantic purity of Odette and juxtaposed it against the sensual virtuosity of Odile.
The very young girls who made up the corps de ballet managed to dance in synch with each other as required by the repertoire, adding an ethereal quality to the scenario of an eponymous lake filled with swans.
Iloilo City must be grateful to Ms Gonzalez for making such a brave attempt at introducing Swan Lake to the Ilonggos–such an uplift to the Ilonggo soul.