SJS Family Day Fashion Show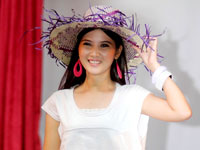 Teacher Kathleen Dato-on.
Part Three
Students, teachers and parents of St. Joseph School were dressed up by Creals, Options, Crocs and Ipanema during a Family Day Fashion Show last March 18, 2010. The show was hosted by Jeremiah Claudine Calacal, Anna Isabel Lopez and Micah Angela Felice Ong; directed by Sir Nicfranz de los Reyes and photographed by AMULAR Photography.