PURR
Sikat Academy once more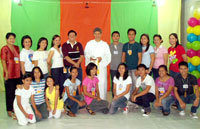 The men and women behind Sikat Academy.
This summer, talented kids who want to become better are undergoing the Sikat Academy 2: The Next Level at SM City Iloilo.
Sikat Academy is a 4-in-1 summer workshop comprised of two levels. The first level is composed of dancing with dancercise, singing, acting, English news reading, hosting and storytelling. The second level consists of two kinds of combo classes. The first is music and dance that includes basic voice lessons, vocal solo, duet and chorale as well as a variety of dances like modern, creative and Broadway. Second is speech and theater that includes newscasting, oration, public speaking, acting, declamation and role playing. The children are taught team building and leadership as well.
The teachers are Kevin Pison Piamonte (head teacher), Crista Sianson-Huyong, Annie Divinagracia-Sartorio, Robert Rodriguez, Rhoda Ganzon and Babbeth Fuentes-Vargas.
Sikat Academy President is Atty. Jobert Penaflorida while his wife, Rea is the administrator.