PURR
The PCSO Sales Rally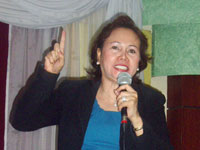 PCSO 6 Director Jeanette Oberio encourages Lotto agents to sell more PCSO products.
The Philippine Charity Sweepstakes Office (PCSO) Region 6 gathered all its Lotto agents in Western Visayas for a sales presentation at the Westown Hotel recently.
William Medici, PCSO's department manager for Visayas and Mindanao, provided the Lotto agents with an idea on how they could have a profitable business as well as make PCSO's products effective.
Jeremy Go, marketing supervisor for Instant Games of the Pacific Online Systems Corp. gave a presentation on new Scratch It Games and Awards Program for Scratch It Retailers for 2010. A certain Ligaya Yulo from Negros Occidental was hailed as the top seller, thus she will be enjoying a trip to the Tagaytay Highlands soon.
Henry Muzzarelli, president of Total Gaming Technologies, Inc., encouraged Lotto agents to get into Keno Lottery. Antonio Reyes, chief operating officers of TGTI, explained why. He said that Keno Lottery is one of the most exciting lottery games offered in the country today and the online draw is done every 10 minutes, thus increasing your chances of winning something during the day.
Jeanette Oberio, regional director of PCSO, said that selling more PCSO products would mean more income for the agents as well as more money for charity.