Panaad Sa Negros Pop Music Festival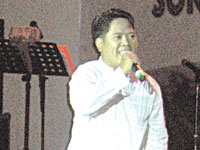 Pop Songwriting 1st place: Isabela's "Negrense nga Musika" composer & interpreter Rogie Bacosa.
Isabela and Escalante City win
The Municipality of Isabela's "Negrense nga Musika" composed and interpreted by Rogie Bacosa bested the other 11 finalists in the Pop Songwriting Competition while Escalante City's "Hanggang Kailanman" version of Detche Van Agabon prevailed over the other 20 participants in the Pop Singing Contest of the Panaad sa Negros Pop Music Festival conducted Tuesday, March 23 at the Panaad Stadium in Barangay Mansilingan, Bacolod City.
Other winners in the Pop Songwriting Competition were Sagay City's "Bayang Minumutya" composed and interpreted by Engelbert "Licoi" Sy in the second place and Bacolod City's "Balikon Ko Ikaw Negros" composed by Glenn Salve and interpreted by Charles Tan in the third place.
A tie was declared between Engelber Sy and Charles Tan for the Best Interpreter of the Pop Songwriting Competition.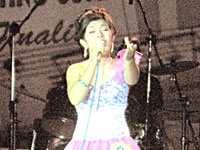 Detche Van Agabon of Escalante City singing "Hanggang Kailanman.
Moises Padilla's "Panaad Festival" composed by Orland Julius Padios and interpreted by Jarhine Kasaral and Escalante City's "Ukay-Ukay" composed by Jason Alpay and interpreted by Noel Dalaguit were named Pop Songwriting's consolation winners.
Meanwhile, the other Pop Singing Contest winners were Rhea Joy Gemina of Toboso who placed second with her rendition of "Dakilang Lahi" and Reysa Jane Escanan of Bacolod City won third place with her song "Follow Your Dream."
Winning entries for both the Pop Songwriting and Pop Singing Competition each received a cash prize of P20,000 plus a trophy while the second place obtained P15,000 cash prize and a trophy and P10,000 plus a trophy for the third place./Capitol News