Rendezvous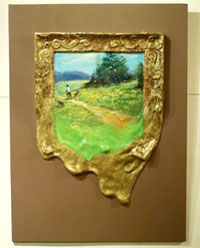 'Almost 9 AM' by Shielo Duterte.
Exhibit by Shielo May Duterte and Maria Cristina S. Escario
"The only people for me are the mad ones, the ones who are mad to live, mad to talk, mad to be saved, desirous of everything at the same time, the ones who never yawn or say a commonplace thing, but burn, burn, burn, like fabulous yellow roman candles exploding like spiders across the stars and in the middle you see the blue center-light pop and everybody goes "Awww!"–Kerouac
Have you ever thought of a special place which serves us home for: madness and sanity, surrealism and realism, transition and static, daze and haze as well as everything in between all of these? Perhaps you have imagined this ideal place somewhere and you have bounced back to your waking life finding nowhere. Today, you find "that" Rendezvous.
Rendezvous is a fusion of art that is old and told, ancient and contemporary, harmonious and ambiguous. It is not a two-man show of Art just for beauty's sake but a slow train ride that seeps through how beautiful is the mind, how vast is the heart and how restless are the hands. It is a collaboration of greatly different media and perceptions bind by the same passion- to create, to mold that special venue that lets every viewer to not just look at but definitely, look into. A venue that awakens emotional telepathy that transcends.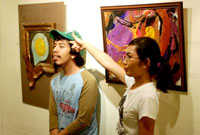 Shielo Duterte and Cristina Escario.
Rendezvous showcases the intricacies of Escario and the perplexities of Duterte and the eccentricity of both. This is your ticket to a no mainstream art destination. Rendezvous is a taste of utopia. Sights and styles that either hits you home at the gut of your bewilderment.
Rendezvous.
Artistic radicalism. Boundary between dreams and consciousness. Call it a place, or yes, a pitfall.
About the artists
Shielo May Duterte born in San Fernando,Cebu.Finished Bachelor of Fine Arts major in painting in University of the Philippines and currently teaching fine arts in the University of San Agustin. He had previously made four one-man shows in Cebu and won as a finalist in AAP art competition (1998).
Maria Cristina S. Escario, born in Quezon City and graduated at University of the Philippines Diliman, Quezon City 2007, with the degree of Bachelor of Fine Arts, Studio Arts. Formerly at the Phil. World trade Center Manila FAME Intl. as an assistant designer and currently teaching in University of San Agustin, Iloilo City.