I-Travel
Fort San Pedro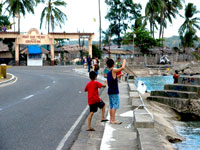 A place of childhood memories.
Ilonggos know where Fort San Pedro is. It's a place where dreams lived and died. What is it nowadays? I-Travel decided to take a look recently.
General Hughes Street, the road going to Fort San Pedro from Plaza Libertad, still exists and it has been widened and well-paved. But it remains a short street, one where dreams came true and some where dreams went sour.
Along this street, you can see Spanish houses, wherein each abode has its history and architecture. One of the buildings here is the Colegio del Sagrado Corazon de Jesus, formerly a school for girls. It has progressed since 1917.
The Fort San Pedro has its history as well. It still is the same thoroughfare, but it needs real reconstruction. Wishfully, on the future development planned along the way, this site should be restored, not modernized. The panorama is still there. The sunrises and sunsets still happen. Even dreams, that have come true need it, and the dreams for the future, flourish even more.