PURR
Memoirs of Images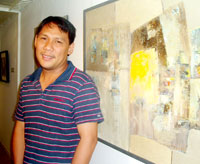 The artist, Joseph Espino.
Abstract works of Joseph Espino
"There are no dysfunctional and crooked things that time cannot be attuned to nature. Even our memory would tresh out the dregs of the past and what remains are only beautiful," said Joseph Espino, who is holding an exhibit entitled "Memoirs of Images" at the Casa Real Provincial Gallery until April 4.
Espino is a creative director of a Hongkong-based company and he now works in Makati. But despite being away from Iloilo, he has managed to go back to his roots and showcased his abstract paintings, which he considers as his outlet. "Painting is my escape because digital work had been my bread and butter," he said.
Espino is a graduate of AB English from the University of San Agustin but he had a passion for arts, thus he followed his heart. In fact, he wishes to become a full time painter someday and the exhibit was one of the steps towards this goal.
Prior to the opening of the exhibit, the USA Little Theater presented poetry pieces entitled "Hangin" by Joseph Espino and "Inumol" by Architect John Carlo Tiampong. The presentation was directed by Eric Divinagracia, one of the best theater minds in Iloilo City.