PURR
RCJ Balasan Special Bibingka
A story of hard work and good taste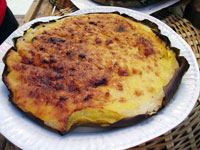 The big plate costs P80.
SOME people think that making bibingka is somewhat the same, thus you can buy from any stall. However, this is not the case. There is always one that stands out. It's the RCJ Balasan Special Bibingka.
RCJ Balasan Special Bibingka is rich in coconut meat and coconut milk (plus some ingredients that are a best kept secret). This chunky treat is not too sweet and not bland either, thus it makes you clamor for more. The upper and outer crust of the rice cake is a bit crispy and sprinkled with brown sugar.
RCJ Balasan Special Bibingka can be stored in the refrigerator for three days and still maintain its softness. Just heat it or put on top of steamed rice. Some patrons even said that they tried keeping the food for a week and it still tastes good.
They are available in two sizes. The small ones cost P20 per pack of eight pieces while the big plate costs P80. The big plate is equally tasty as well. You can even dip it in butter or sugar, for a twist.
Hard Work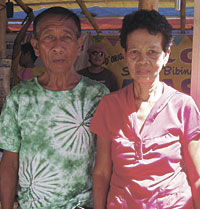 Reginald and Florinda Jaro, owners of RCJ Balasan Special Bibingka.
The owners are Florinda and Reginald Jaro. The birth of their business came about 28 years ago after Florinda resigned from her work as checker in Estancia and started making bibingka with only P300 as capital. Her mother was into this business, thus Florinda knows how to make bibingka and she even cooked it better. She basically lived and slept on the sidewalk for nine months. "We had no house. We slept on the sidewalk, with only a makeshift tent to shelter us," Florinda said.
That hardship did not hinder the couple from succeeding.
They have six children and all of them are now successful and happy in their chosen occupations. One of them, Ramil, resigned from his work in Brunei and opted to manage their branch in Balasan.
"It was the bibingka business that sent our children to school. Thus, there's nothing to be ashamed of in selling bibingka," Florinda said. "I finished first year high school only. I felt bad that my parents asked me to stop studying that's why I told myself that all our earnings will go to our children," she added.
The Jaros' tips for success? "If you have a limited income and it's just enough for your daily needs, do not get into vices or enjoy too much. Sure, we enjoy ourselves but not always. We focus on the business first and make it grow. Spending your money on many enjoyments would just come someday if you can afford to do so. And whatever it is that you earn, allot a certain amount for your savings. For example, if you earn P100, keep P25 for your savings. It's really hard to look for money when you don't save," she said.
When you are successful, you are prone to jealousy. "Don't mind jealous behaviors so that you won't get hurt and won't hurt others. Just focus on your business," she added.
RCJ Balasan Special Bibingka is located beside Jaro Cathedral.