Green Mango Bangus Fiesta
Sooo bangusarap!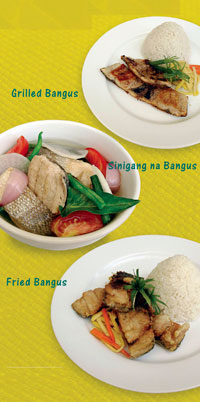 At Green Mango, it always feels like fiesta!
Hordes of health buffs will be delighted this summertime with an oh-so fresh new table treat. If you're in for a hearty meal, head straight to your favorite Green Mango branch for a super healthy and mouth-watering plateful of your favorite Bangus! Craved for its rich texture and delicious meat taste, Bangus would certainly be a healthy alternative for those craving for something delicious and healthy this summer.
For a perfect lunch or dinner, try Green Mango's Fried Bangus and experience the healthy goodness of fried fish delight that will surely remind you of your mom's wondrous home cooking. It's really just a simple fried fish recipe except that Green Mango prepares it in a non-greasy serving that will surely get you hooked.
And if you think grilled fish are nothing but tasteless stuff, at Green Mango, you'll surely think again. Green Mango grilled Bangus is a specially-done grilled delight that brings out the natural, engaging flavor of Bangus, and added with an unmistakable appealing flavor.
For a real Pinoy meal, try Sinigang na Bangus which combines Bangus' delicious and meaty flavor with the soothing taste of your favorite sinigang soup, generously blended with vegetables that will most certainly complete your hearty meal.
Green Mango always makes sure that the food served to you is as good and as healthy as it was prepared at home. It only serves non-greasy food with no artificial flavoring and preservatives, essentially providing you with a daily doze of healthy meal delights, in a fast way! When you dine at Green Mango, you're undeniably choosing the healthier fastfood.
(Green Mango has six branches: GM Valeria (338-2014), GM E. Lopez (329-6168), GM Jaro Plaza (329-0046), GM Jalandoni (339-4978), GM SM City (333-1092), and GM Nelly's Garden (329-7601).