The digital touch of Jann Galino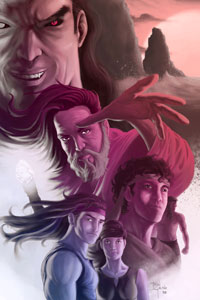 Some drawings in Majarlica.
Jann Galino is one of TESDA's first scholars in animation (Dimbox Animators) at the West Visayas College of Science and Technology several years ago. His group made the first animation piece in Iloilo, entitled "The Legend of Tibud."
He is a graduate of Information Technology Management who later on worked as a computer technician, network administrator and PC Support personnel in different government and international companies. After that, he taught in a maritime university for four years and eight months. He taught computer courses including graphics designs and animation. "But my passion in visual arts never left me, then I decided to leave the university to pursue my career in visual arts," he said.
Jann is currently a full-time graphic artist and digital painter. He is the co-creator and digital painter of Majarlica: Bayan ng Agimat (Land of Amulets). It is a graphic novel launched on September last year at the International Book Fair at the Mall of Asia. His fellow Dimbox animator Manuel Ong flew to Manila to help him with the coloring.
The graphic novel was re-launched at the Philippine International Cartoons, Comics and Animation Festival (PICCA) and Annual Filipino Komiks Convention (KOMIK KON) last October 2009.
"It took us almost a year to develop the story and draw this 95-page graphic novel," he said.
Jann is currently residing in Manila. His tools of the trade are pencil, tablet, pens and papers. His website is http://jgalino.blogspot.com.